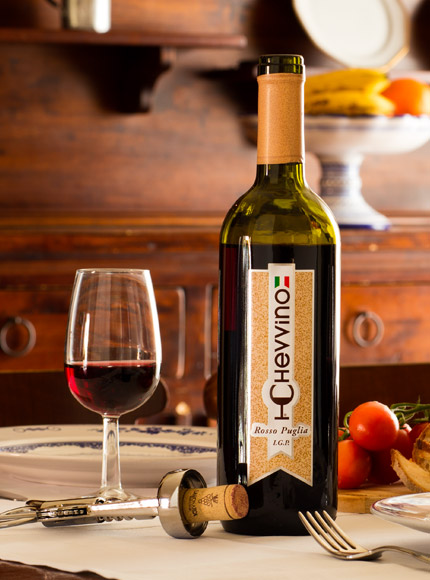 Chevvino has a makeover
The Chevvino line has a new look and is now contained in a very elegant glass bottle with cork. It is perfect for restaurants, an elegant choice for bars that offer tasting or appetisers, but remains at an absolutely competitive market price.
The real novelty, however, lies in the contents. Whether red or white, this wine is made with grapes produced in Apulia by prized and renown vine varieties.
Furthermore, the Chevvino line can now boast an IGP label (Protected Geographic Area) which is only conceded to companies who produce high quality products, tied into the reputation of the production area and its traditions. The rules to adhere to are especially stringent and compliance is guaranteed by an appointed monitoring organization.
Chevvino wine IGP Apulia is produced with the renown grapes of the Trebbiano vineyards, originally from central Italy, and with the local Bombino Bianco. They are both exclusively cultivated in Apulia, so they enjoy the sunshine and good soil of the area around Castel del Monte.
Chevvino red IGP Apulia is instead made with a prized and renown grape variety originally from Tuscany, the Sangiovese, along with a Nero di Troia, which marks the tradition of the Apulian reds.
Chevvino IGP Apulia is a high quality wine, which has in time deserved its elegant and precious appearance to match its content, and ensure whoever offers it will meet with satisfaction in all occasions.